Dear Sirs and Madams, our woodwork offer includes both hot and cold aluminium in a full range of colours, among others:
Redan MB-70 HI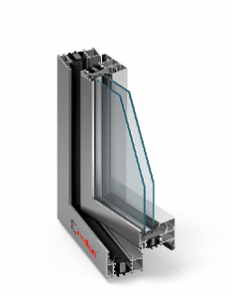 Redan MB-70 HI is an aluminium system of enhanced thermal insulation properties that is used for constructing parts of external installations that require very high thermal and sound insulation parameters, e.g. various types of windows, doors. It comes in a standard of enhanced thermal resistance achieved through using special insulating inserts inside the profilers and the area below the pane. Anti-burglary windows and doors up to RC4 class as well as ventilation windows can be made in the MB-70 system.
The system's advantages:
varied window functions, suiting individual clients' needs
the option to bend the profiles and thus construct arched windows
structures suitable for various types of fittings, including hinges concealed inside windows, roller hinges inside doors
the option to build two-colour structures: the profiles can have different colours on the external and internal sides
[themify_hr color="light-gray" width="80″ border_width="1px"]
REDAN MB-86 AERO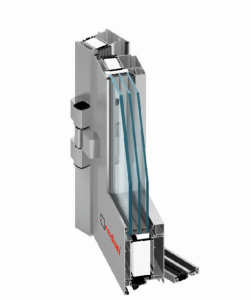 It is a system for windows and doors having very solid parameters that can satisfy varying needs of its users. The profilers' structure can be constructed in 3 variants depending on thermal energy saving requirements: ST, SI and AERO.
MB-86 is the first in the world system, alongside MB 104, that makes use of aerogel – a material of excellent thermal insulation properties. The advantages of the MB-86 system include high profile resistance that enables creating structures of large dimensions and weight. A MB-86US windows version with a concealed sash is also available. The SI version has special insulating inserts inside the frame and sash.
The system's advantages:
a wide range of profilers guarantees achieving the desired windows' aesthetics and resistance
thermal separators of a newly-developed shape allow for the use of an additional partition in the insulating area of the profiles
a two-component middle gasket perfectly seals and insulates the area between the sash and the window frame
the profile shapes are suitable for mounting various types of fittings, including concealed hinges
a wide range of glazing allows for the use of all commonly known window types, including two-chamber, acoustic and anti-burglary